EDIT MAIN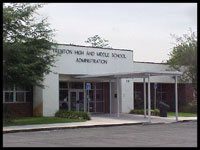 Trenton Middle/High School would like to welcome you to our school website! Please take the time to explore, and let us know if you have any questions. THS is a high performing combination middle/high school serving students in 6th through 12th grade. We value the dedication and hard work of our students, teachers, and parents, and we are proud of our collaborative efforts toward continuous improvement. We encourage you to contact us at any time to ask questions or make suggestions; we welcome the input! THS will continue to support and facilitate student achievement, safety, and well-being with your help.
The mission of Trenton High School is to empower students to become contributing members of society by developing a positive growth mindset of life-long learning through a rigorous and relevant school environment.
We will find a way to promote:
A passion for learning
Community and parent involvement
A safe environment
A technology rich environment
College and career readiness
A strong work ethic
Emotional awareness
Character and leadership development
A strong sense of self worth
For information regarding our School Improvement Plan, please visit https://www.floridacims.org/.
Text Alert!
In order to keep you informed of the many happenings around Trenton High School we would like to invite you to join the new Trenton High School Guidance Text Alert System! We will keep you updated on the events that are going on in the Guidance Department. Text message information will be general information about high school and also grade level specific. Regular text message rates do apply. To join the THS Guidance Text Alert System, please text: @52aac to (352) 658-0903. If you would like to receive information about middle school events please join by texting the following:
@trentonmi to (352) 658-0903.
If you have any questions, please contact us at (352) 463-3210 or through email at leglerl@mygcsd.org.