The Health Academy/HOSA is having a car wash and yard sale Saturday, November 9th from 8:30AM until noon in the front of Bell High School. Please come out and support the Health Academy.
Mrs. Hudson's Drawing students spent time today making posters for the volleyball poster contest.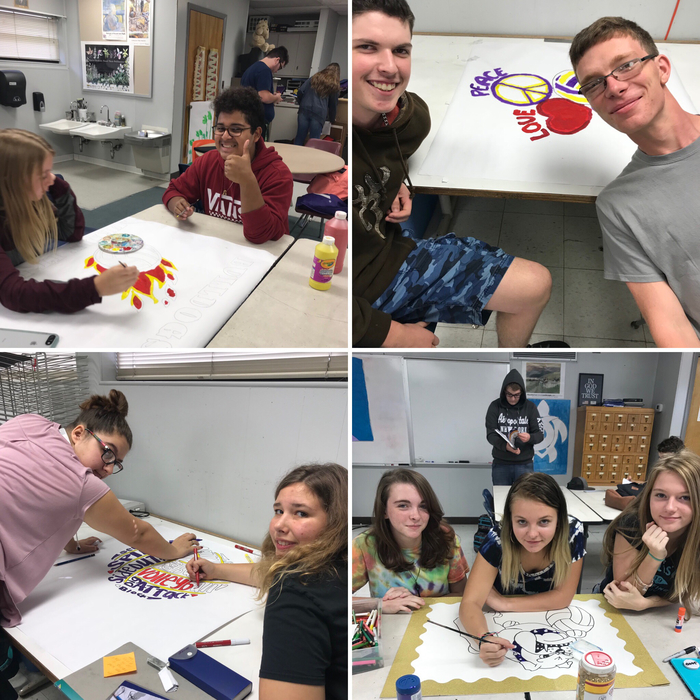 The BHs Junior class is selling t-shirts for $20. Male shirts have no glitter. Orders and money are due by Friday, 11/16. Please see or contact Mrs. Karla Waldron to order (352-463-3232 or
waldronk@mygcad.org
).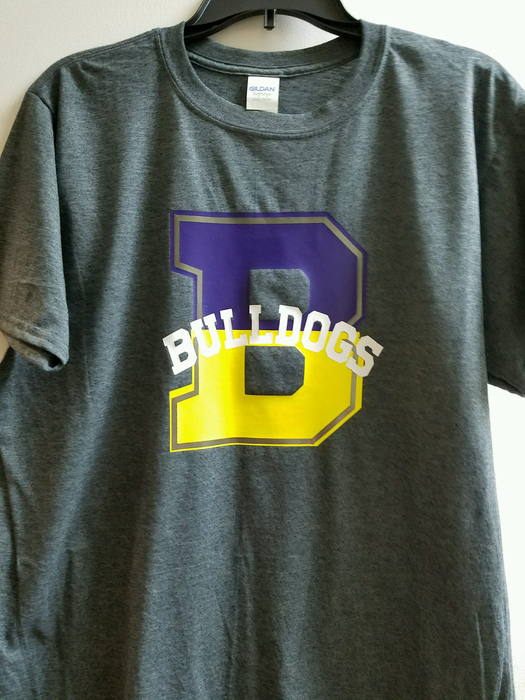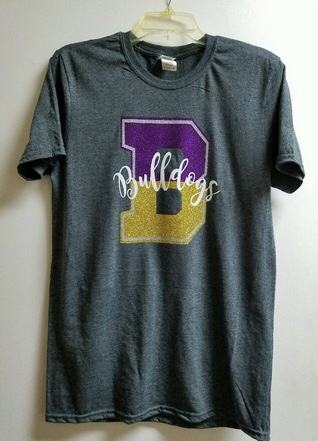 BHS JROTC and Band perform for Veteran's Day Program.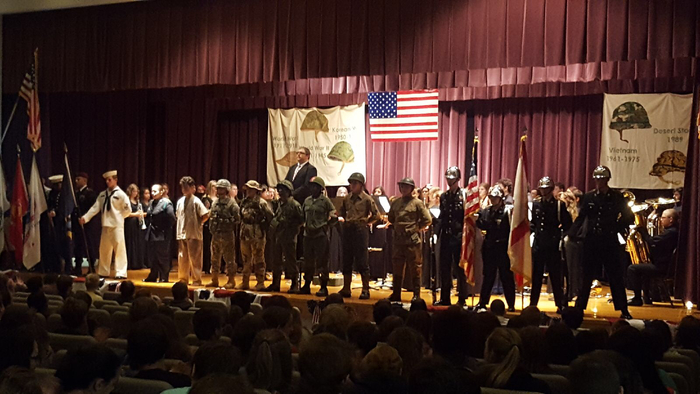 The deadline for ordering a yearbook on-line has been extended to December 31, 2018. Order at
https://yearbookordercenter.com
and enter school code: 1307. Yearbooks are currently $50 and will increase to $60 January 1, 2019.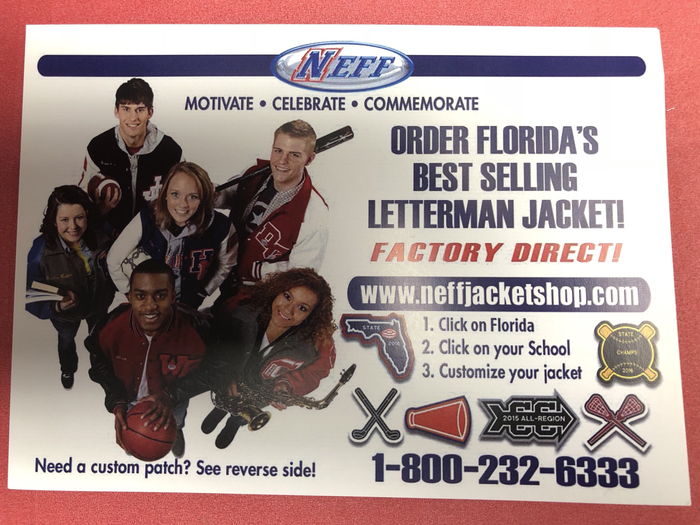 2nd Graders from both Bell Elementary and Trenton Elementary Schools traveled to BHS last week to participate in the Health Fair coordinated by our Health Academy. The students had a great time!
Shout out to Senior Julianna Whiting for being named a Wendy's High School School Winner!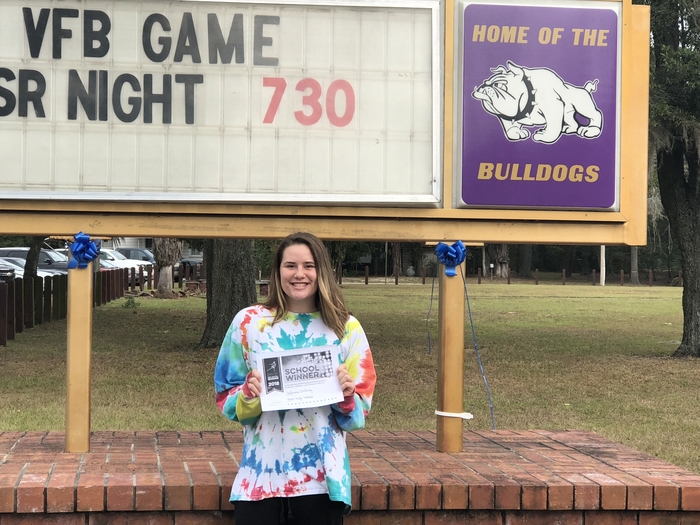 Our character trait for the month of November is HOSPITALITY. Hospitality means to "cheerfully share food, shelter, and friendship with others." Let us all practice hospitality this month and moving forward.
1st Sergeant Jon Meinholz was a guest speaker last week for Mr. Surrency's US History class on the 100th Anniversary of the End of WW1. 1st Sergeant is shown with some of his helmet collection.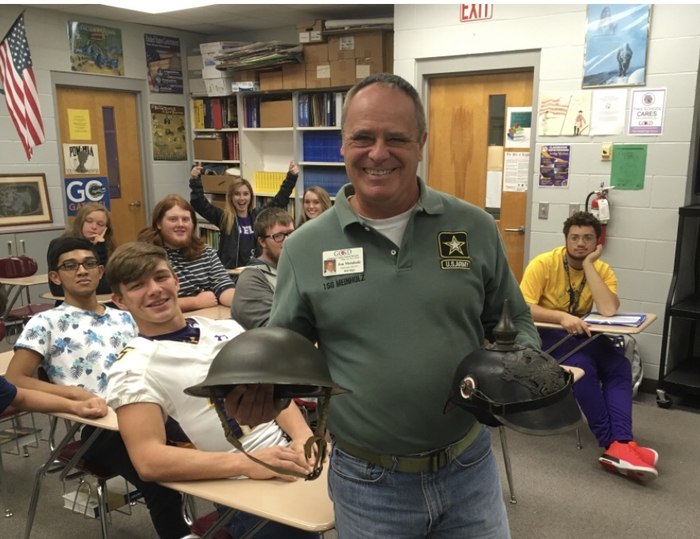 Justus Jones, Area 2 State Officer for FFA visited BHS as guest speaker during middle school Agriculture classes this week.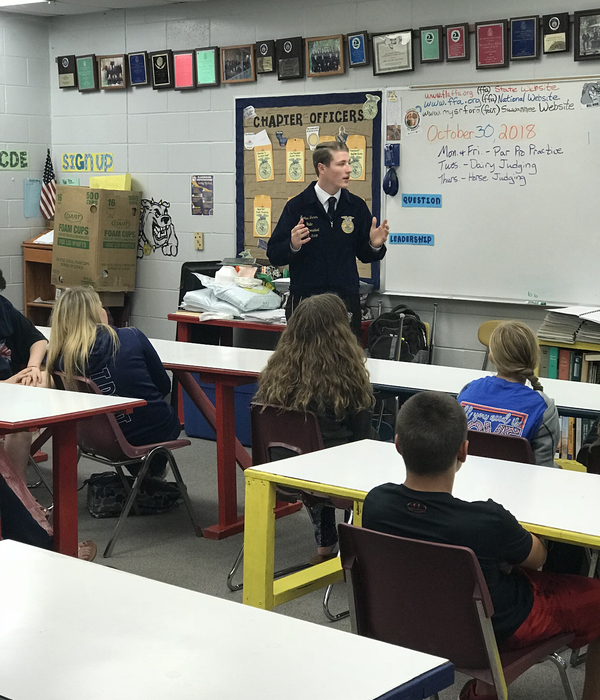 Florida Gateway College traveled to BHS this week to assist students and parents with FAFSA completion.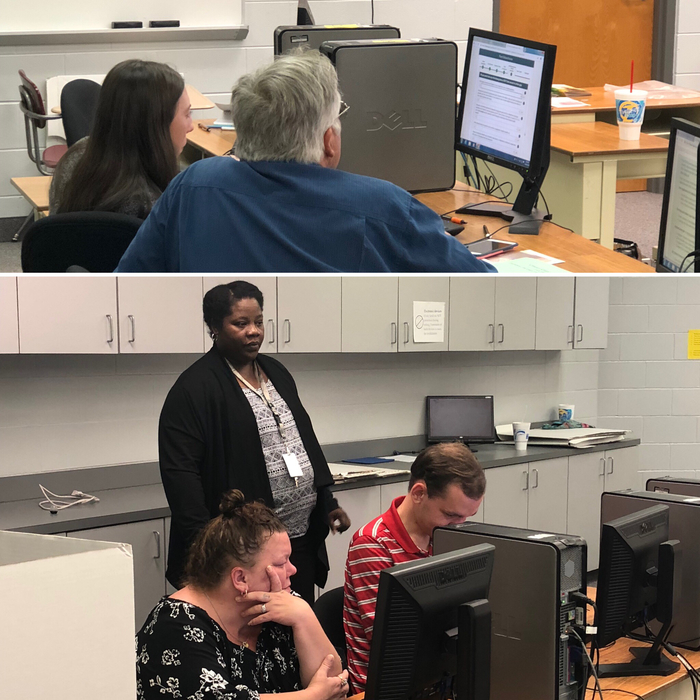 Letter Jackets will be on sale in the cafeteria during lunch on Monday, November 5. Order forms are located in the BHS front office or can be obtained through Coach Whittington. Order forms and payment are due on Monday, 11/5/18.
Seniors and Parents: Cap & gown orders will be taken during lunch November 15th and 16th. Please contact Mrs. Johnson (352-463-3232 or
johnsonja@mygcsd.org
) if you need assistance with getting your cap & gown. A cap & gown is required for all official graduation ceremonies.
Yearbooks are currently on sale for $50 each until December 21, 2018. The price will then increase to $60 each. The last day to order a yearbook is March 15, 2019. Extra yearbooks are not ordered, so please be sure to pre-order yours before the deadline.
The Yearbook staff is selling Kindness Grams to be delivered on Friday, 11/2-cost is $1.00. Please see a yearbook staff member or contact Janet Johnson in the Media Center to purchase by Thursday, 11/1. Kindness Grams are a great way to show kindness and appreciation to your fellow classmates, peers, and teachers/staff.
Friday, 11/2/18 is the deadline to register for the December ACT test.
There will be a Senior meeting on Wednesday, 10/31/18 in the library at 8:30 AM. Herff Jones will be here to discuss cap and gown and other graduation supplies-this is a very important meeting and all seniors need to attend. Herff Jones will be back November 15 and 16 during high school lunch to take cap and gown orders.
Practice for Varsity and JV Girls Basketball begins on Monday, 10/29 from 5:00-7:30 PM. A current physical must be on file.
Thank you to all students, parents, and staff members that contributed to our "Adopt Jackson County" project! BHS was able to send a huge load of items to students in Jackson County Schools to assist them in their transition as they return to school on 10/29. Please continue to remember them as they begin their rebuilding process.