Attention Gilchrist County Sheriffs Explorers Post 269. Explorers will meet at 10am on Saturday, May 19th at the Gilchrist County Rodeo Arena located at 4050 South US Hwy 129, Bell. Explorers will assist with the parking detail at the benefit concert to celebrate the lives of Deputy Taylor Lindsey and Sergeant Noel Ramirez. The assignment will be complete at 5pm. Deputy Holder will provide GCSO Explorers t-shirts to those in attendance. Work attire will be black boots, jeans and Explorers t-shirt. For further information, contact Deputy Holder at 352-463-3181.
The High School Concert Band performs at the Spring Concert Monday evening.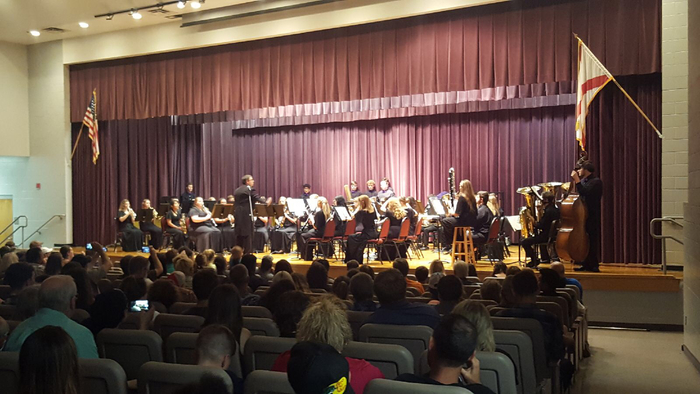 May 14-May 18 is the last week for Seniors, with the Senior Walk taking place on Friday, 5/18 at 11:30 AM. Parents will need to sign in at the front office to attend.
High School Laptop return schedule: Wednesday, 5/16: 9th grade @ 8:20, 10th grade @ 9:20 and 11th Grade @ 10:20
All library books are due to be turned in by Friday, 5/18.
JV cheerleading practice has been cancelled for Monday, 5/14.
FREE physicals for BHS kids entering 6-12 for the 2018-19 school year will be Wednesday, May 16 at 3:15 in Health Academy Room. Paperwork available in front office.
Shark dissection is happening Friday in Miss Blakey's 8th grade Science classes!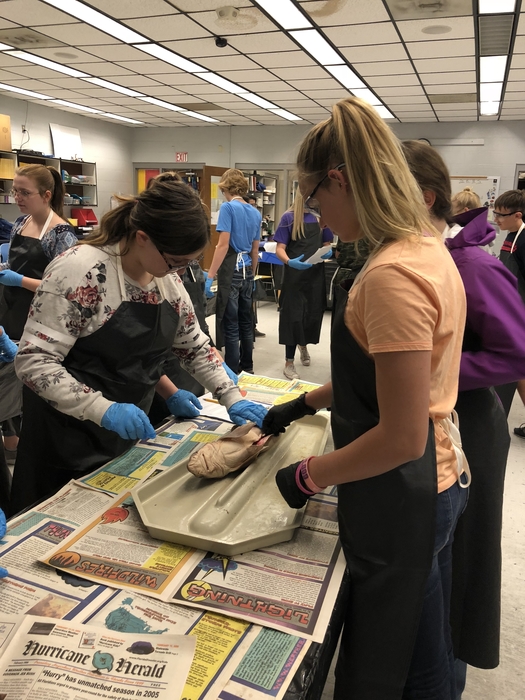 Color Guard Try-Outs will be Tuesday, 5/15 through Friday, 5/18 from 3:15-5:00 in the auditorium. Auditions will be on Monday, 5/21 from 3:15-4:45 in the auditorium.
All Seniors will need to drop off their computers in the High School Lab (Science Building) on Monday, 5/14 @ 8:20 after reporting to home room. Laptops will need to be turned in with chargers and cases.
Our character trait for the month of May is TOLERANCE. Tolerance means "showing respect for others that are different than me." Let's all try to remember that not everyone is the same.
The last practice for the Powderpuff Football Game will be held on Saturday, 5/12 at BHS from 8:00AM-10:00AM.
Grades 9-11 will be turning in laptops (including case and charger) on Wednesday, 5/16. Schedule will be announced.
Parents, if you have a child with medication in the clinic at BHS please make arrangements to retrieve the medication by 1:00 PM on Friday, 5/25/18. All medications not picked up by this date/time will be disposed of.
The Bell High School Color Guard was recognized at the band banquet Tuesday evening.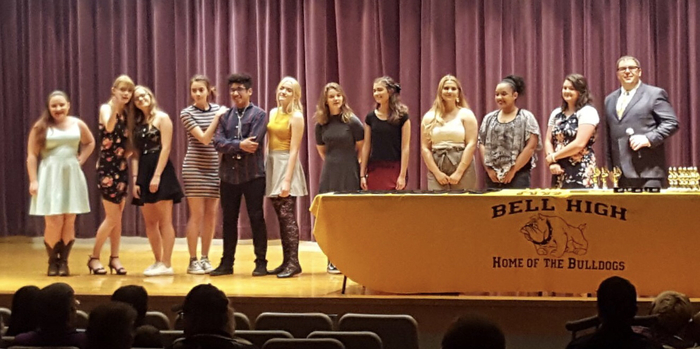 The Bell High School Band members were recognized at the band banquet Tuesday evening for their accomplishments at the MPA (Music Performance Assessments).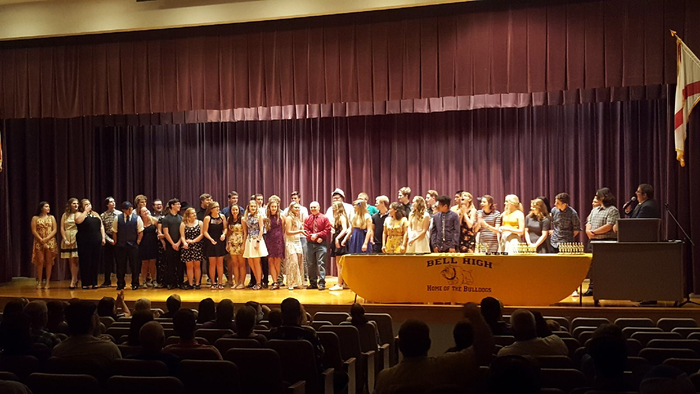 Dual Enrollment students and parents: You must have a Math cut score of 19 on the ACT or 114 on the PERT to continue taking classes after 12 hours of college credits have been earned. Ms. Dana Collins is making a list of students who need to take the PERT for math, and Friday, 5/11 is the last day to register for the June ACT.
Seniors, Cap & Gowns have arrived and are available for pick-up in the Dual Enrollment lab at BHS.
The Bell High School Concert Band was recognized at the band banquet Tuesday evening.