The BHS Senior Class is having a car wash on Saturday, 4/9 from 8:00-12:00 in front of the school. All proceeds will go to help offset the cost of Senior Cords. Come out and support our Senior Class! #C/O2022
3rd 9-Weeks Reports Cards go out tomorrow, Tuesday, April 5, 2022.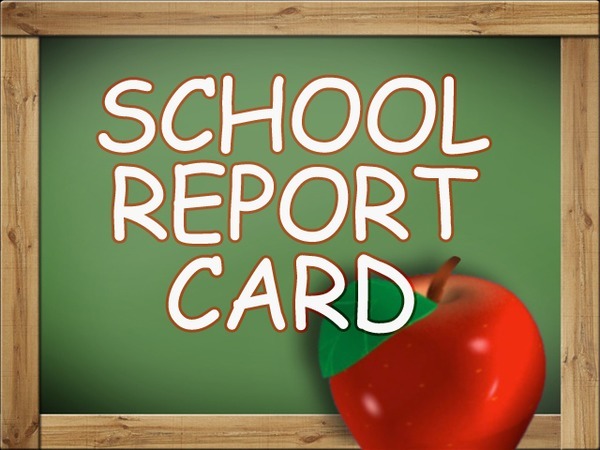 Parents/Students: please see testing dates for all upcoming state testing. Please make sure students are present and well-rested on testing days in order for them to do their best! Please contact your child's guidance counselor at (352) 463-3232 or via email for any additional information. Grades 9-12: Lynette Langford
Langfordl@mygcsd.org
Grades 6-8: Xina Leggett
leggettx@mygcsd.org
The BHS HOSA will be having a car wash fundraiser to raise money for the upcoming State Leadership Conference. Donations will be gladly accepted. When: Saturday, April 2 from 8:00-12:00 Where: In front of Bell High School Come out and support HOSA!
***Girls Summer Basketball*** There will be a player/parent meeting on Thursday, April 7 at 6:00 PM in the BHS Gym. Please email Katelyn Johnson for additional information at
MJROFFICEKATE@GMAIL.COM
.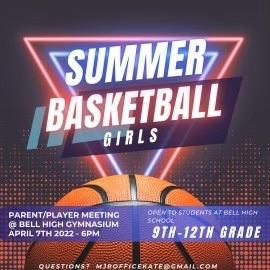 Attention Parents of BHS 8th Graders! Take Stock in Children is a statewide non-profit mentoring program that provides an opportunity for deserving high school students to earn a two-year tuition scholarship. The Foundation for Florida Gateway College is the lead agency for the North Central Florida Take Stock in Children Program which serves Baker, Columbia, Dixie, Gilchrist and Union Counties. Applications are released in the spring to eighth grade students through their middle school. Students whose households meet the income guidelines for free or reduced lunch are eligible for the program. TSIC students agree to: stay drug and crime free, maintain a 2.5 GPA, maintain good citizenship in and out of school, participate in TSIC events and meet with an assigned mentor twice a month. Please use the safe electronic link (below) for the application and required financial documents. If you have any questions, please do not hesitate to contact our office. PDF version applications are also available online at FGC.edu/takestockinchildren.
https://schools.scriptapp.com/#/workflow-app/workflow-details/6647/dashboard?resourceName=2021-2022%20TSIC%20Student%20Application
The application process is lengthy and there are many applications to review, so please be patient during the review process. Parents will be contacted as soon as the process is complete. Peggy Boston, Program Specialist Take Stock in Children Florida Gateway College 149 SE College Place, Lake City, FL 32025 Phone: 386-754-4423 Fax: 386-754-4923
www.fgc.edu
www.takestockinchildren.org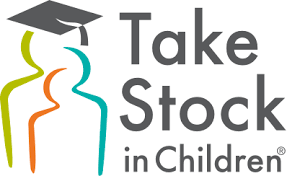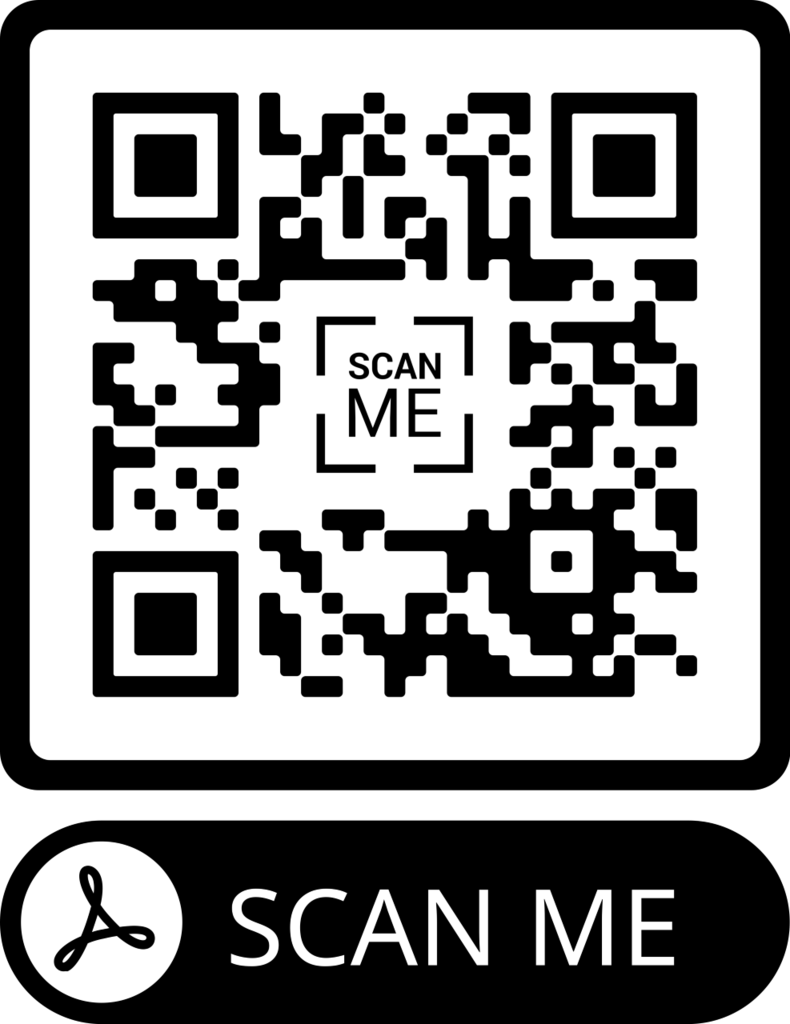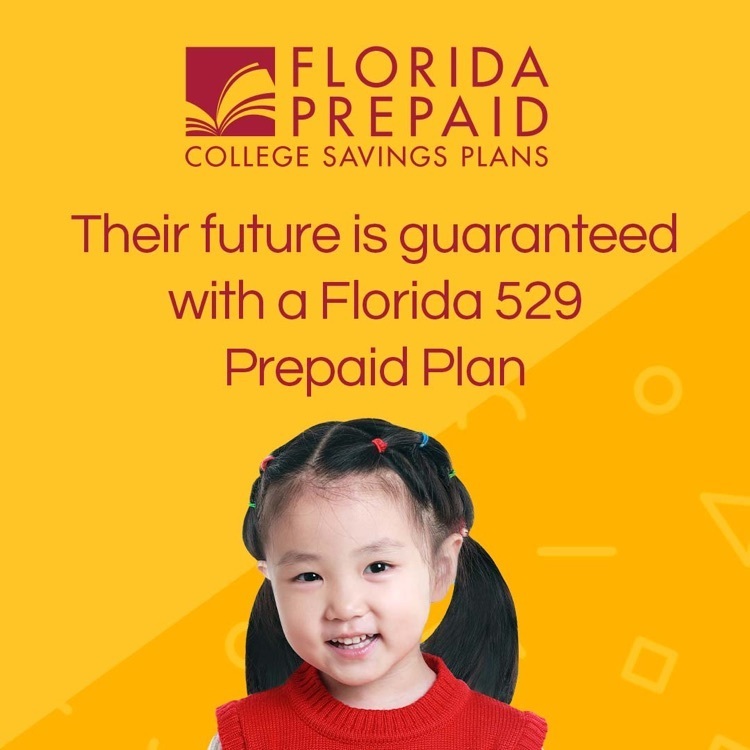 The US Military Academy Day will be Saturday, 3/26. Please see flyer for details.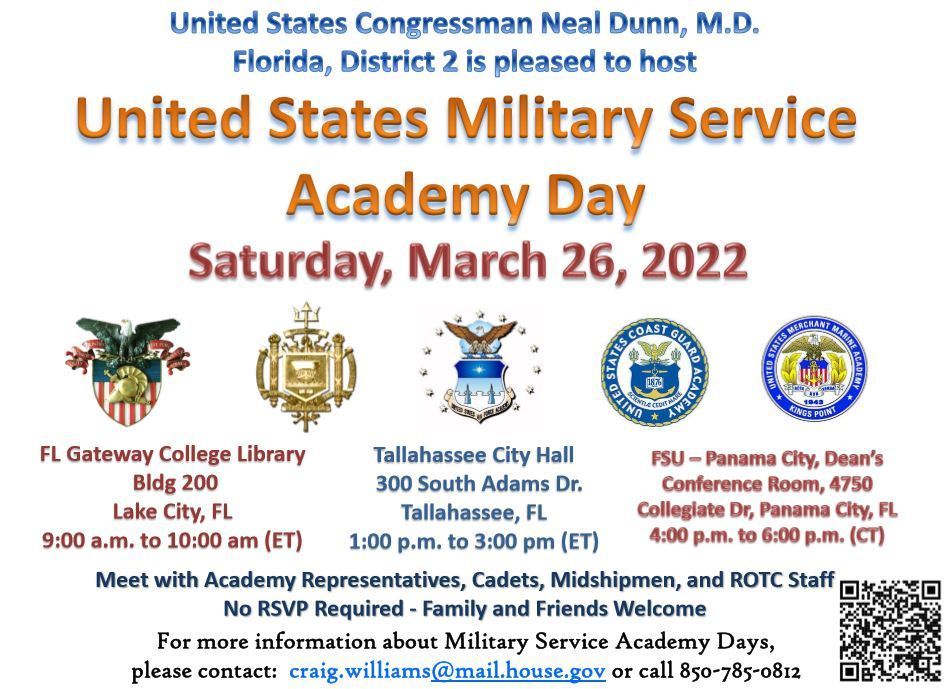 Out of an abundance of caution, all extra-curricular activities have been cancelled for today; this includes after school programs, tutoring, practices, athletic competitions (whether home or away), etc. Thank you for your continued support!
Ms. Blakey's 7th grade Science class had a little visitor Tuesday! The students used the baby goat and its pedigrees to discuss genetics and artificial selection. 🐐💜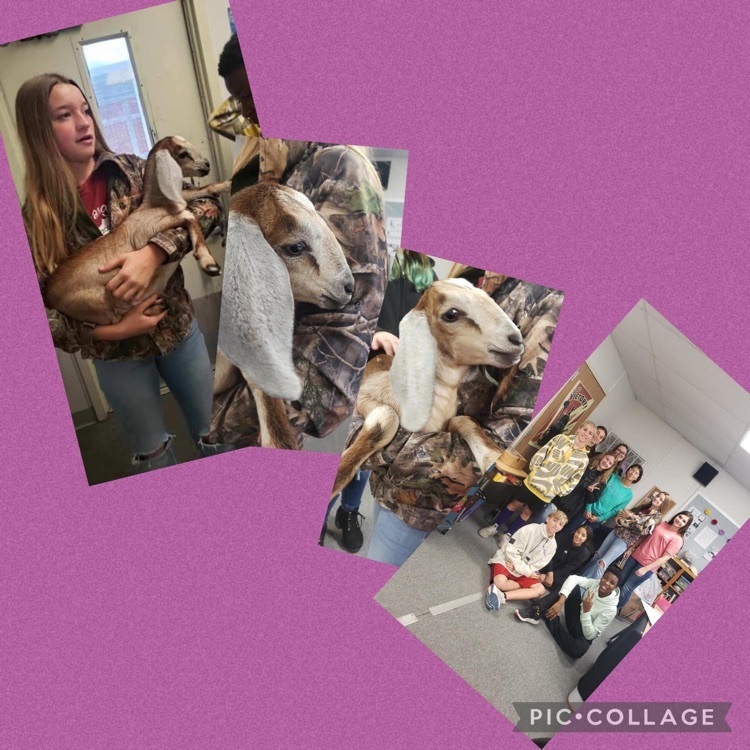 The Gilchrist County School calendar for the 2022-2023 school year was approved by the school board on March 15, 2022. The calendar is available on the district's website under "Menu" - "Documents" - "School Calendars".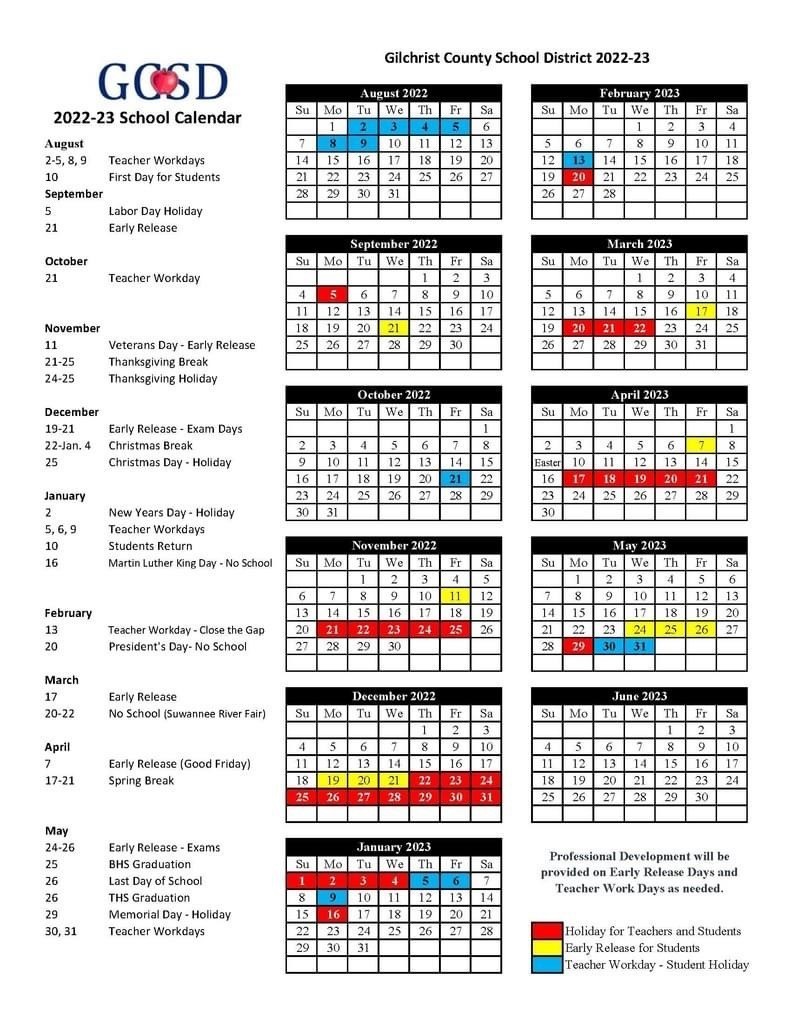 WHY TRY 2022!!!! CareerSource Florida Crown is happy to announce The Why Try program for children ages 11-15 will take place this summer. The Why Try program was created to provide simple solutions for: Dropout Prevention, Increasing Academic Success, Violence Prevention, Drug and Alcohol Prevention and Truancy Reduction, and more. See flyer for important registration dates!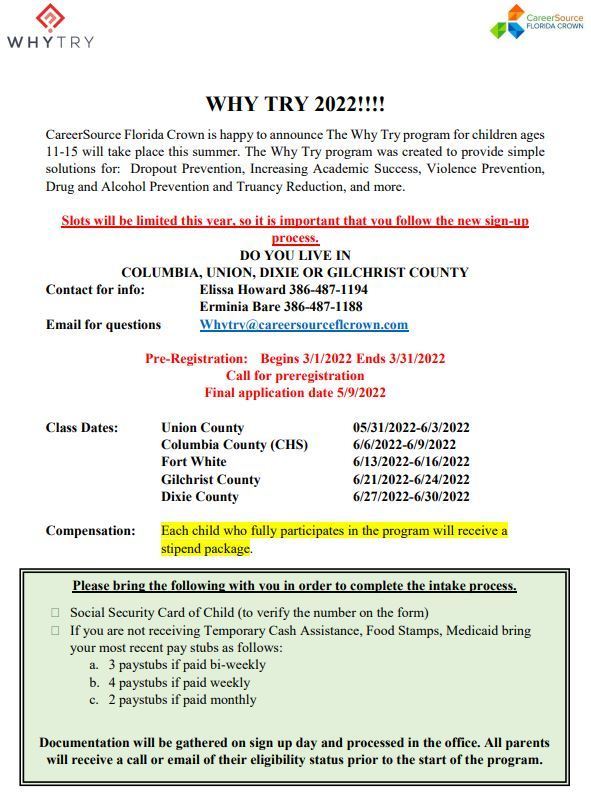 Good morning, this is Jim Surrency, Superintendent of Schools.  Overnight, our school district received additional threats that resulted in Gilchrist County Sheriff's Deputies sweeping all four school campuses to ensure the safety of every student and employee this morning. Law enforcement found no evidence of a physical threat to our schools and has given the "all clear."  However, multiple agencies including Gilchrist County Sheriff's Office and Florida Department of Law Enforcement are continuing to monitor the situation closely and are continuing the ongoing investigation to determine and prosecute the source of these recent threats. Gilchrist County Sheriff's Office has been and will continue to provide an increased presence in and around our schools out of an abundance of caution. We appreciate your patience and understanding as we work through this situation. All schools are open and are being monitored closely by law enforcement and our district safety team.  Thank you for your support.
As many of you know, there was a bomb threat to Bell High School this morning which resulted in the school being closed for the day. I have been and will continue to work in unison with Sheriff Schultz so that all precautions are taken to ensure the safety of our faculty, staff, and students. Although law enforcement found no evidence of a bomb or any other threat and has given us the "all clear," a thorough and aggressive investigation has been launched with multiple agencies including Gilchrist County Sherriff's Office, Alachua County Sheriff's Office and the Florida Department of Law Enforcement. Gilchrist County Sheriff's Office has been and will continue to provide an increased presence in and around our schools out of an abundance of caution. Thank you so much for your patience and understanding as we work through this situation. All schools will resume normal schedules on Monday!
Florida Gateway College College Night will be Thursday, March 10 from 5:00 PM to 7:00 PM at the Richardson Community Center located at 255 NE Coach Anders Lane in Lake City. Information will be provided regarding programs available at FGC for students. For more information, visit:
www.fgc.edu/collegenightatrichardson
.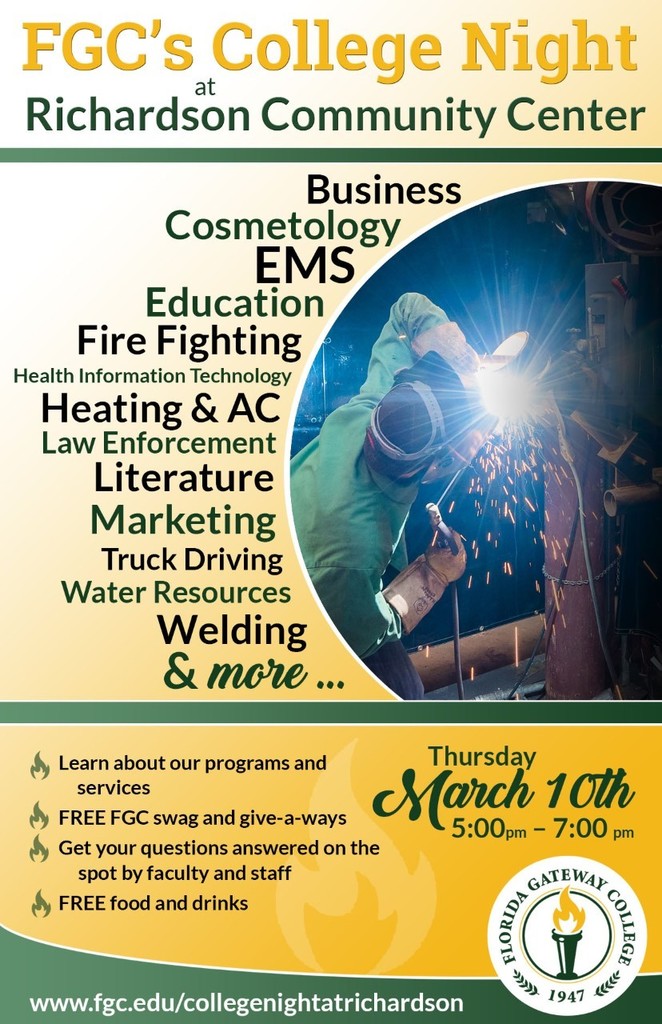 Seniors & Parents: There will be assistance on campus on Tuesday, 3/1 to aid students in completing the FAFSA (Free Application for Federal Student Aid) from 11:30-2:00. Please let Mrs. Langford know if you have any questions.

Seniors: Education Foundation Scholarship applications are due on Monday, 2/28. Please see Mrs. Langford if you have any questions.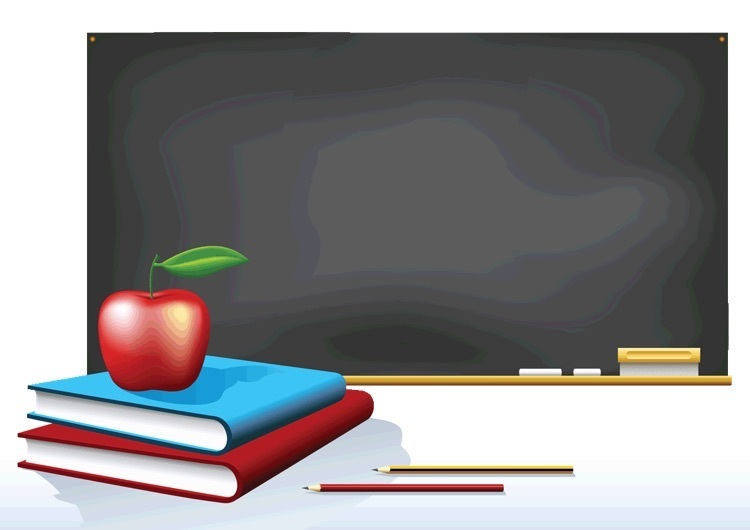 The BHS Debate team, led by Ms. Blakey, participated in the FCDI Regional Tournament on Saturday. Marissa L. took first in original oratory, Stella P. took second place in original oratory, and Riley W. took first place in declamation. Congratulations to all!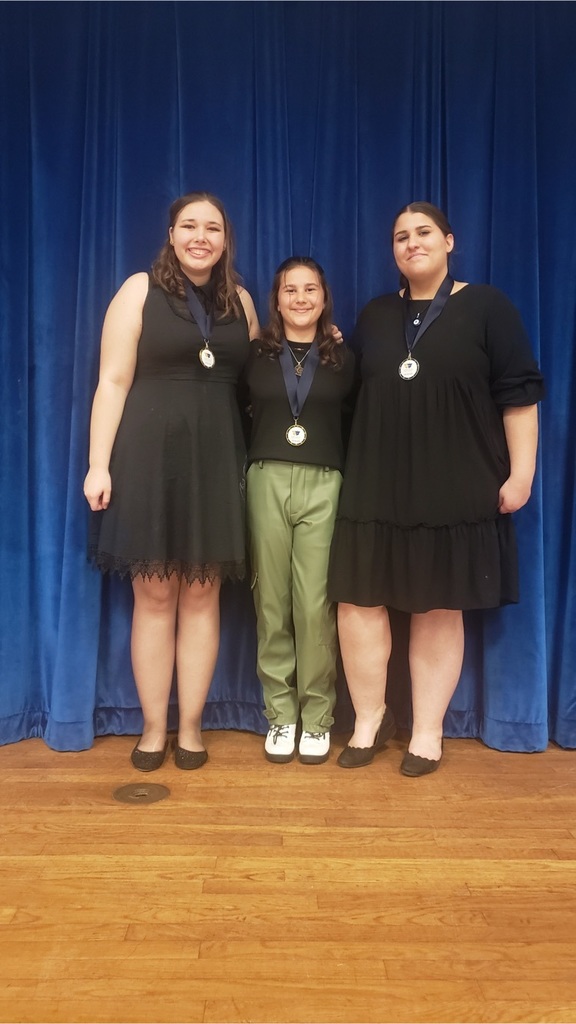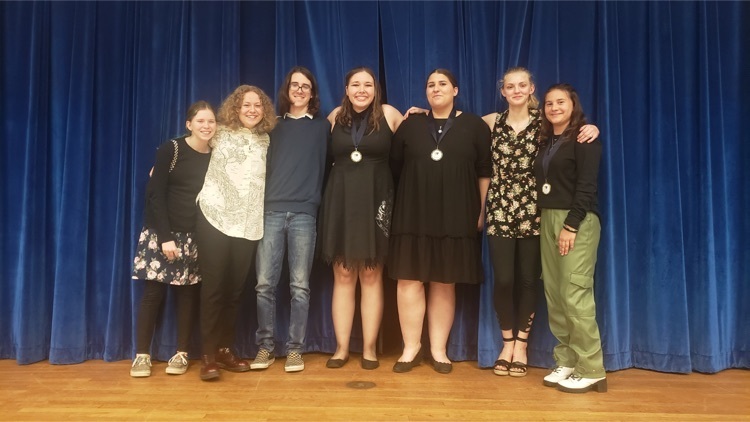 Bell High School AVID is excited to announce our first annual AVID College Week March 7th – 11th. This week is being designed to allow our AVID students the opportunity to showcase the AVID elective to the entire student body and recruit students to apply for the AVID elective next year. The students have been busy planning and creating activities for the week. All week – College Spotlight each day on the announcements, decorate your door with college or career theme, Monday, 3/7 – College Pennant/Presentation (AVID students will display information about various colleges throughout the school on pennants. AVID elective students will be doing presentations for our middle school students during their elective classes. We will provide a detailed schedule.) Tuesday, 3/8 – Dress for Career or Success (Students can dress in shirts, ties, dresses, or as a career that they are interested in). Wednesday, 3/9– Alumni Day and I wish a would have known (please wear your college alumni colors or shirt, and display words of wisdom on your white board in class. Things that you wish you would have known going into college). Thursday, 3/10 – What Do I Need to Be College Ready – We will share the best AVID strategies that students use to be successful. Friday, 3/11 – Door Decorating Contest. We will hand out AVID applications to interested students starting Wednesday. They will be due back by Thursday, March 17th.
Congratulations to BHS students Sandra L. and Vicki L. for their recently won writing awards! Sandra won the Polyphony Lit Fall contest in 2021. Her work is featured in the magazine linked below:
https://www.polyphonylit.org/copy-of-vol-17-fall-index
Sandra and Vicki also received awards for the Alliance for Young Artists & Writers. In the Scholastic Art and Writing Awards - Regional level -Sandra - 1 Gold, 2 Silver, and 4 honorable mentions -Vicki - 2 Gold, 1 Silver, and 1 honorable mention The Gold "Key" writing entries will now go on to the national level. There is a website below about the program.
https://www.artandwriting.org/awards/